Sparky in WK dartteam Netherlands 2013
Remco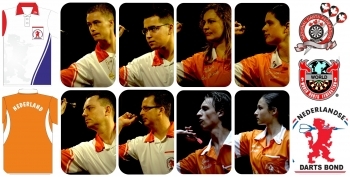 Aileen de Graaf, Sharon Prince, Remco van Eijden, Rick Hofstra, Wesley Harms and Benito van de Pas will represent the Dutch seniors team during the WDF World Cup in Canada. Sharon Jansen and Quin Wester will come true at the youth. This is the outcome after an extensive selection process within the technical staff of the NDB.
The first choices made were related to the women's team. Aileen currently performs the count both nationally and internationally and performs great as current Dutch champion also this year the island and Vancouver's seawall. Also internationally as the highest Dutch lady, she is listed on the rankings. Sharon Prince will work with Aileen travel to Canada. Sharon also performs internationally well and seems to be getting closer to the International Summit. The Zoetermeerse makes for years part of the women's selection and this year reached the semi-finals of the Lakeside.
The men will include current Dutch rankingchampion the Dutch team shirt to go Remco van Eijden. Remco won the Switzerland and Austria in recent months Open this year and made part of the successful Winmau Six Nationscup Team. This also applies to the others, including Wesley Harms and Benito van de Pas. Both continue to perform well internationally and have their qualities even though proven several times on behalf of the Dutch team. The men's team is complete with Rick Hofstra, which achieved excellent results on international tournaments in recent months. The experienced Fries played a fantastic Winmau Six Nations Cup and knew the German Gold Cup win this year including nine DART finish. During the World Cup will play the couple Remco van Eijden tournament with Rick Hofstra. Wesley Harms is a couple with Benito van de Pas.
The choice at the youth are so cases on Sharon Jansen and Quin Wester. Sharon is the current Dutch champion (ranking and GNK) and also carries now the rankings again. It will be the experience of two EUROPEAN CHAMPIONSHIPS played youth tournaments bring to Canada. Quin's palmares is so far impressive. In addition to profit on the zuiderduin Masters 2012 and 2013 is the Dutch Open Darts he recently crowned WDF European Champion (team, pairs and single). It will be given its age his first and last World Youth Championships. This also applies to Sharon.
The NDB, partly thanks to this powerful Setup, forward to the World Championships in Canada. The tournament will take place from 1 to 5 October in St. John 's, Newfoundland and is organized by the WDF in collaboration with the Canadian darts bond.
Off course the NDB personally informed the entire selection.